Between Page and Screen is a hand-bound and letterpress-printed book of poems that engages both the digital poetry and artist's book traditions to consider the place of books in an era of screen-based reading.
This sixteen-poem chapbook contains no text, only stark black-and-white geometric shapes and a web address leading to this site, where the reader follows instructions to display the book on his or her webcam. Our software detects the square markers in the book and displays corresponding word animations mapped to the surface of the page. Because the animations move with the book, they appear to inhabit "real" three-dimensional space—a kind of digital pop-up book.
The poems—a series of cryptic letters between two lovers, P and S—do not exist on either page or screen, but in an augmented reality only accessible to the reader who has both the physical object and the device necessary to read it.
Between Page and Screen was printed in an edition of 12 on a Vandercook proof press at Otis College of Art and Design in Los Angeles, California. The book was digitally set in URW Grotesk and hand-printed from photopolymer plates on Rives BFK paper. The three-dimensional poems were set in Helvetica Bold, using the VectorVision library. The binding is Keith Smith's Butterfly, which is also known as Yamato Toji and Double Span-Span Span-Span.
Many thanks to Linda Dare for facilitating the project and to Genevieve Kaplan for assistance with printing. Barbara Maloutas and Rebecca Chamlee provided valuable insight into the book structure and materials. Gratitude to the lab techs who provided a keen eye when needed: Leslie Ross-Robertson, Sudeshna Pantham, and Roxy Morataya. Thank you to Maggie Lomeli for help screenprinting our postcards.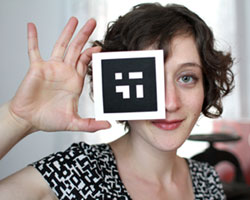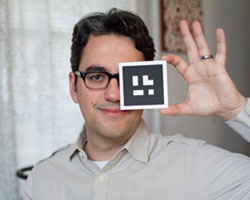 Amaranth Borsuk is the author of Pomegranate Eater (Kore Press, 2016), a collection of poems; As We Know (Subito, 2014), a book-length erasure collaboration with Andy Fitch; Handiwork (Slope Editions, 2012), selected by Paul Hoover for the 2011 Slope Editions Book Prize; and Tonal Saw (The Song Cave, 2010), a chapbook. Abra (1913 Press, 2016), a book of mutating poems created with Kate Durbin, received an NEA-sponsored Expanded Artists' Books grant from the Center for Book and Paper Arts at Columbia College Chicago and was recently released as a limited-edition book with a free iPad / iPhone app created by Ian Hatcher." Borsuk's other digital collaborations include The Deletionist , an erasure bookmarklet created with Nick Montfort and Jesper Juul; and Whispering Galleries , a site-specific LeapMotion interactive textwork for the New Haven Free Public Library. Borsuk received her Ph.D. in Literature and Creative Writing at the University of Southern California and served as a Mellon Postdoctoral Fellow in the Humanities at MIT before joining the faculty of the University of Washington, Bothell, where she is currently an Assistant Professor in the School of Interdisciplinary Arts and Sciences.
Brad Bouse is a developer whose work focuses on the intersection of art and technology. He is the co-founder of Lightboard. He frequently presents about art and code, including this presentation about the Usefulness of Uselessness at JSConf.EU in Berlin.
Between Page and Screen uses the FLARToolkit to project animations in an augmented-reality. The application also uses the Robot Legs framework, Papervision 3D engine, BetweenAS3 animation engine, and Jiglib physics engine. The source code is available here.